Photos | Prices | Rental Properties Map | Casita Rental
---
Rent from your choice of Paver Pads, Tiki Huts, Casitas, and MORE.
Call today!
---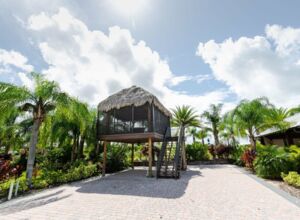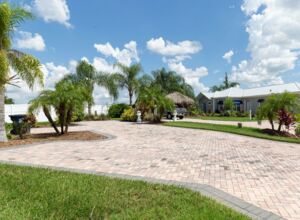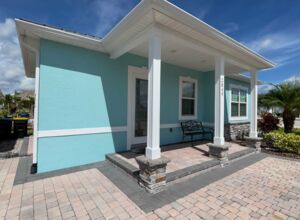 All rental sites include a minimum of 1600 sq ft pavers w/ picnic area. Premium sites (Over sized lots, Mature landscaping, Special views, Tiki huts, etc) are available at increased rental rates. Additionally, we have a few options to rent furnished casitas!
---
Now Accepting Rentals for 2022-2023 Season! Call Today!
Bay Lake "Class A" Motorcoach Resort Rental Info
Price varies by season
Rates include electricity, water & sewer / Cable is available, but must be activated and paid for by guest / *Subject to availability & change without notice or obligation / 7% Sales tax is added onto rates
Standard Pads Nov. 1st - April 30th: Daily - $90 / Weekly - $550 / Monthly - $1,800
Standard Pads May 1st - October 31st: Daily - $75 / Weekly - $500 / Monthly - $1,600
Premium Pads (Extra long or heavily landscaped with features) All Year: Daily - $110 / Weekly - $675 / Monthly - $2,000
Pads with Tiki Huts All Year: Daily - $135 / Weekly - $775 / Monthly - $2,200
Specialty Rentals (2 story tiki hut, Luxury Pavilion): Daily - $155 / Weekly - $825 / Monthly - $2,400
Pad with a Casita - Call for rates and availability
Cancellation Policy - Full refund if cancelled within 60 days of reservation dates. No refund inside of 60 days
As a renter you are our guest, however we do ask that you do not bring additional guests of your own without obtaining written approval from the Bay Lake Office
Rental Pads and Casitas
Click the icon above each rental lot for more information. Call today for availability!
<
---
Casita Rental
If you are looking into the Motorcoach lifestyle but don't have a coach yet you can still come and check us out! Or if you are already renting and are in need of a place for your family or friends to visit, this is your answer. Whatever the reason, you can RELAX and UNWIND in our private resort casita with a tiki hut! Perfectly located between Tampa and Orlando, this casita offers you great space with access to our resort amenities including a POOL, SPA, theater and gym. A short drive to all central Florida and coastal attractions (20 min to Disney and all Orlando parks, short distance to nearby airports and surrounding cities), plus golf, restaurants and shopping.
https://www.airbnb.com/rooms/32301284?s=51
---